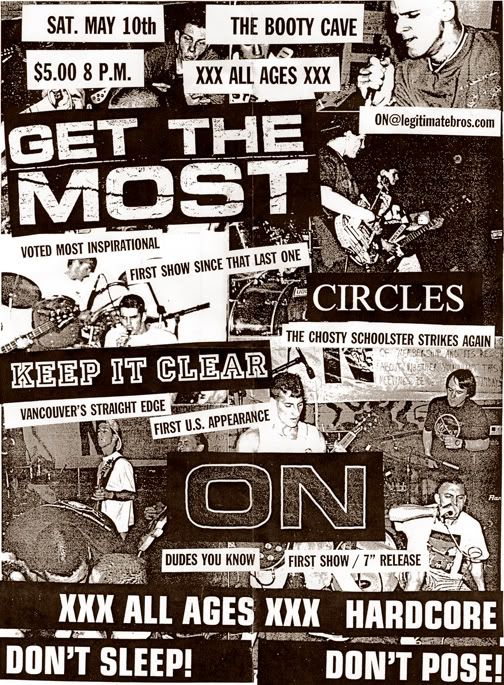 As I type this, my ears are still ringing from the pleasant cacophony of the last two nights.  What I'll try to do here is summarize the events of May 9th and 10th, a show at Seattle's Deathstar and the annual Legitimate Brocase take III.
9 May 2008
AO and I made some bike tracks from
Dangler HQ
to see a fistful of people adjacent to the parking lot formerly known as
IHOP
.  That's all I can say about the Deathstar's secret locale (43rd and Brooklyn, yo). Grave Maker was playing with a band that goes by the nickname, "We hate sluts."  Not being one to hate on a young lady for her personal life/daddy issues, I will comment only on
Grave Maker
's showing.  
GM is Bailey of Figure Four, J. McRae, Wayne Kong and t
he guitarist known as AZN BRN.  They decided that the best way to spend their days would be to write some catchy tunes, practice them until they're tight as hell and then go all over Central and South America, the US and Canada and Europe.  They did and continue to do this all on a demo 7" (on Copper Lung records) and with $4 a gallon gas.  They love what they do and it showed last night.  They were tight as hell and Jon's presence was unreal.  I never really got into the contemporary tough-sounding hardcore subgenre, but GM makes it a great live show.  If they come to your town, and make no mistake they will eventually be there, please go see them, compliment Wayne on his hand-made drum set and pick up their 7".  They'll have a new one on
think fast
! later this year.  
(Similarly, Wait in Vain of Seattle is also doing an lp on Think Fast!)
10 May 2008
Tonight was the first usage of Seattle's new Euro-like venue, the Booty Cave, by hardcore bands, and it was by all means, a rager.  
ON
set it off with four melodic tracks a la Burn and Better than a thousand.  On is by all means an all-star band, but this project stands on its own in comparison to all members' projects past and present.  Expect a west coast tour later in J
une and check out their demo 7" which they're self-releasing.
Vancouver is the home of Today's Man, Andy Patillo.  If you have never met Andy, you're missing a crucial treat.  Today's man fronts
Keep it Clear
, Vancouver's latest straight edge project.  On this night, they played fast and tight and had a guest cameo by Column/
Get the Most
stud, O-face.  I give it a rating of no less than 9.8.  Perhaps more for the sheer
Striking Distance
sound byte uttered by Andy P... "Fuck this fuck you horseshoe shit, come up here and punch me in the face..."  Buy their fuckin' demo.
Circles
followed, playing their unique brand of Revolution summer meets late Fat Wreck Chords hardcore.  A sweet Dag Nasty cover rounded their night out.  They too have a demo 7" available through the lesser-known silly girl records.  It's very good.  I recommend it to fans of good things and sideless shapes.
Get the Most was ridiculous.  Anna Pack is married to Kyle Deville, and after seeing this performance, I must say that she is incredibly lucky.  The sheer physical prowess of Kyle as he leaped, dove, frolicked and galloped while belting out classic Get Mo' tracks such as Clock me Out and Core Values, was overwhelming.  With Ace and Today's Man on Guitar duties, the sound was big and tight while AO's bop was, per normal, slick and stylish.  They have a new lp coming out on
Powered Records
in Europe and TBA stateside.  Their previous records are easily found at any GTM show or through Germany's
Crucial Response
Records.
The weekend's shows receive an overall rating of ten beej heads, plus one additional beej head for nice weather.  Word to everyone who came out and made these shows a blast!