Friday July 23 Drive Day from Gothenburg to Berlin
We awoke to Staffan making us porridge with bread and juice. He even packed us a large bag of snacks and toilet paper for the rest of our travels! This was the final straw for all of us and we declared Scandinavia the best place in the world to be a touring hardcore band (later to be tied by Hungarians and Poles). We checked emails, showered and were out the door by 830 am on our way to Berlin where we'll switch vans. Grzeg is a tour driver, so he has a job that starts tomorrow for tourists (not the hardcore band kind). We'll head back through Malmo, swap some Kr for some Euros, pick up Ida from Beyond Pink and then onward to Berlin where we'll switch vans and drivers and then head to Fluff Fest for the weekend. As of right now we're in the van where stomachs are full, eyes are closed and spirits are high for the upcoming weekend. Grzeg has taken to callin Chuck Falk, "Chuck Fuck," something we can't stop laughing about everytime his Polish accent loudly announces the new title.
Hess and I kind of look at stuff...
Saturday July 24th Berlin Germany to Fluff Fest Rokycany, Czech Republic
We parted ways with Grzeg and swapped vans late last night. We were all sad to see him go. His humor, even without English was great. We began the drive to Fluff Fest with our new substitute driver, a Polish guy whose sense of direction may be slightly less keen than Grzeg's. After a few wrong turns, we were about four hours late to the fest, arriving just in time to see Anchor. There must be 4,000 people at this fest, with three stages. We're playing the middle-sized tent, so there should be just enough room for dives without having to play through a huge sound system. To be quite fair, the open-air hardcore fest is a foreign entity to all of us. There are dozens of vegan food tents and hundreds, if not thousands of people camping. It seems like half of Germany brought a distro tent or is selling records either inside or outside the fest. Rearranged killed it on the party stage, so we saw what kind of response fast, straightforward bands tend to get. They played super well and it appears that this isn't just a metallic HC fest or amazingcore show. We headed to Torgeir's hotel downtown and passed out, getting ready to play tomorrow.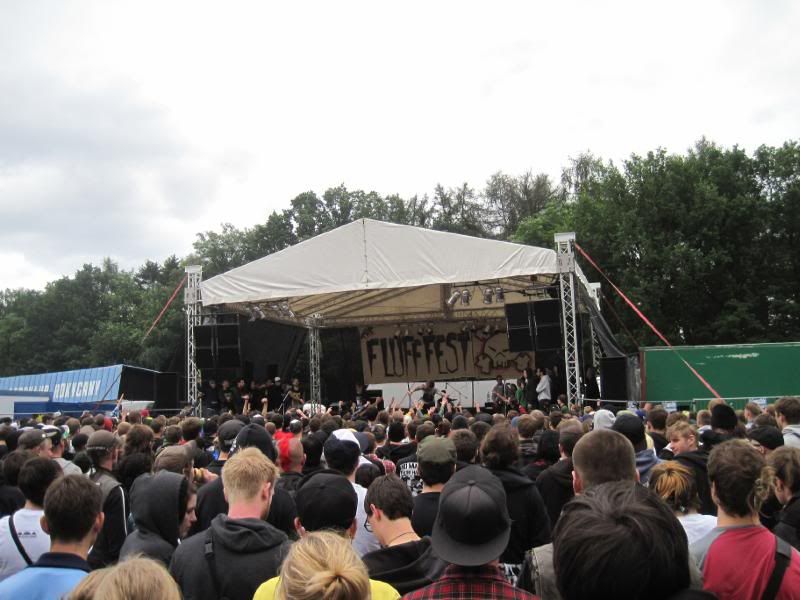 Yeah, the stage is kind of big...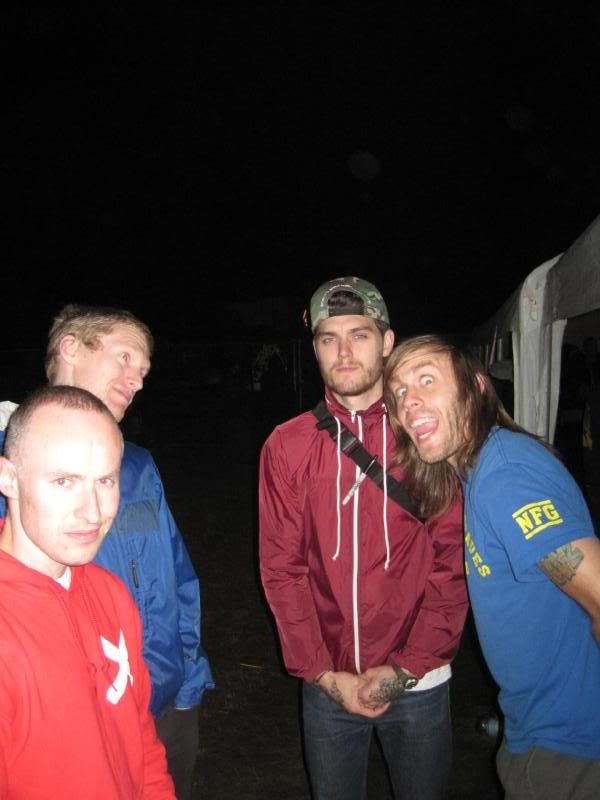 We kind of hung out into the night...

Shaun Clark is kind of a good friend who kind of reps Clevo...hard.