Chuck's so handsome he makes cameras dizzy.
Sunday July 25th Fluff Fest Rokycany, Czech Republic
Sunday morning we woke up and walked back to Fluff Fest from the central city. We hadn't realized the distance nor the historic landscape through which we had walked the previous night. Since it was Sunday in the Czech Republic, nothing was open for business, so we wandered through town, checking out the 800-year old churches and buildings. Although the Czech Republic is a Protestant nation, we walked by a large old Catholic Church and took some pictures of the tapestries. It's hard to imagine the ethnic and cultural conflicts that have happened across the continent over the last few millennia. Being largely areligious, I surmise that the folks who worship here are steeped in traditions that I can only begin to comprehend. To choose a faith and practice it in the face of feudalism, war, genocide and political imprisonment is something that I have no experience with, and can hardly imagine. It's not my cup of tea, but man, I can respect commitment if nothing else.
We got done playing tourist, slogged up the hill with our personal wares, and began to setup merch for the day. We shared table space with the guys from Vitamin X and were totally stoked to meet Wolfi and Marco. Vitamin X has a long history in Europe, and plays a mix of hardcore and rock with comedic political lyrics. We got to hang out and peddle some wares for most of the day, taking in the fest and the vegan food as best we could.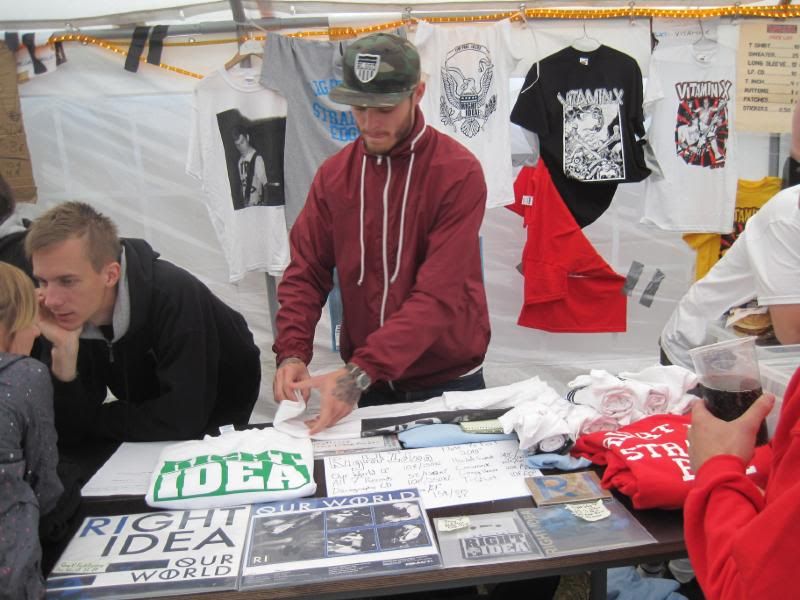 Chuck merchandising while Anchor dude makes love faces: http://www.blessedlabelclothing.com
We played last in the party tent, following Your Fucking Nightmare and the River Card, and right before No Turning Back on the main stage. We came out to the Wide Awake intro, and as soon as we clicked into "Right Idea," all hell broke loose. From behind the drums, all I could see were piles of kids and an army of kids moshing and singing along. Vic from rearranged came onstage and sang SSD's "Glue" totally bridging the European and American straight edge for one song. At one point, it felt like the stage might give way—an exciting and terrifying proposition for any hardcore band. I have no idea what the capacity of the tent is, but I was certainly flattered by the amount of kids who not only know who Right Idea are, but came out to sing along and say hello at the table after the set.
We owe a special thanks to Thomas, the promoter for Fluff Fest, who brought us on and let us play. He puts together a ridiculous festival, full of vegan food, political and social exchange and great bands. Each year at Fluff Fest is better than the last, and I would put my Euros down that next year will be ridiculous too. We grabbed Vincent, our driver for the second portion of tour and drove back to Prague, where we stayed with Michael, one of Pavel's friends. It was a really nice flat with a view of the entire city from the balcony, plus our second encounter with a washing machine all tour.